Whitstable Plumbing
Office: 01227 264157
Garden Cottage, Grosvenor Road, Whitstable, Kent CT5 4NN
Mobile: 07889 393768
Email: whitstableplumbing@yahoo.co.uk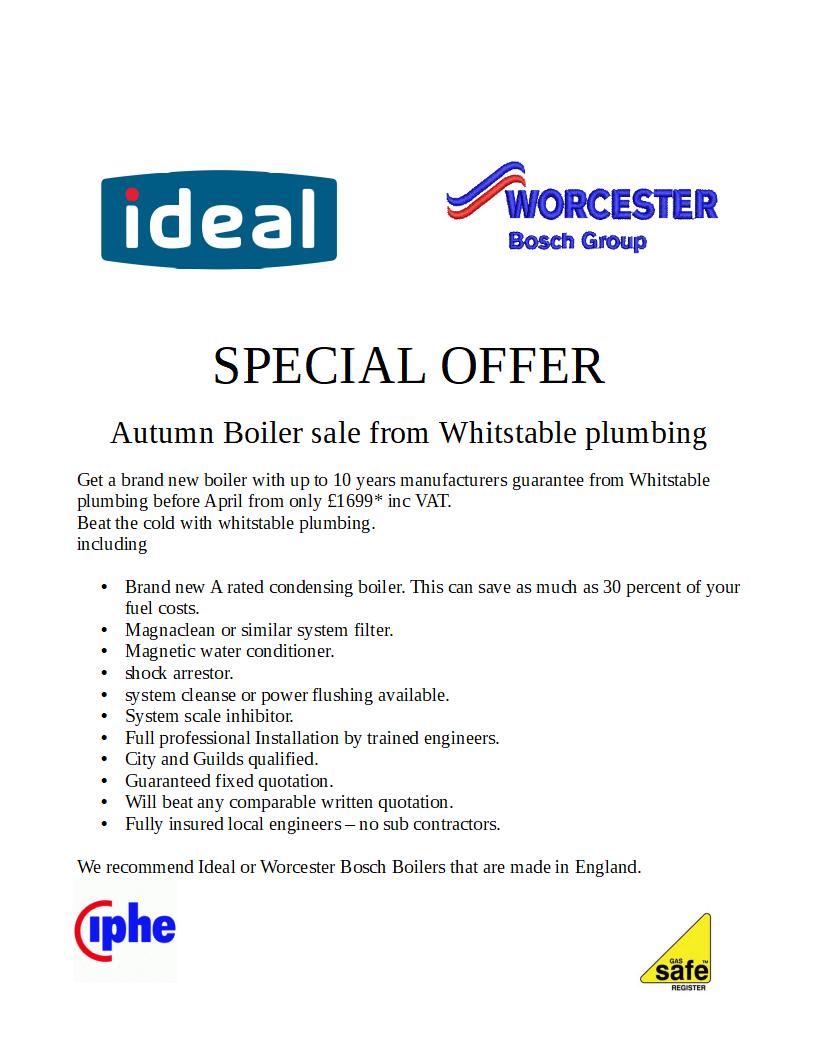 Ron Webster
- Member of The Chartered Institute of Plumbing and Heating Engineers
-Listed on the Gas Safe Register
-City and Guilds qualified
-Fully insured
- Qualified to issue Landlord Safety Certificates
- Bathroom Mobility Specialist
- 24 hour call-out available
- Free quotations
A Whitstable local, Ron Webster is a fully qualified plumber and gas engineer with comprehensive insurance. That allows Ron to undertake work on any gas heating or other gas appliances such as cookers and fires.Ron is a full member of the Chartered Institute of Plumbing and Heating Engineers and is a registered Gas Safe engineer, so you can rest assured that his work will be to the highest standards.
From the installation of complete new heating systems and complete bathrooms (including tiling), to drainage, sanitation and maintenance and servicing, replacement, repairs and restoration, Ron is able to complete the work to the highest standards.
Your central heating system costs you money, and keeping it in the best condition can ultimately save you a lot of money, so why not ask Ron to give your system a health check?
Ron is also a qualified brick layer and can undertake the minor building work, such as tiling, that is often needed to affect repairs after plumbing and heating work has been undertaken, so be sure to ask if this can be included in his quote.
All plumbing and gas heating work undertaken
- Full installations
- Repairs
- Servicing
- Renovation
- All makes of boilers
- All types
Water heaters, gas cookers, hobs, gas fires, un-vented hot water systems
No job too small, so please just ask.
Complete Bathrooms/Tiling - Gas Safe Registered - City & Guilds Qualified
FREE Quotations - Landlord & Safety Certificates
Boiler Installation Repairs and Servicing - Bathroom Mobility Specialist
Domestic Heating - Domestic Plumbing - Sanitary & Drainage
Underfloor Heating Unvented Systems - Gas Central Heating
bathroom plumbing, cleaning, installations, replacements, servicing & repair

burst pipes

central heating equipment

central heating repairs, installation, services

condensing boilers

drainage systems

dripping taps

emergency plumbers

gas boilers, leaks, plumbers, safe registered, services, servicing

heating engineers

hot water plumbing

kitchen plumbing

overflow systems

power flushing

plumbing leaks

radiator repairs

shower installation

water leaks, systems, tanks

wet room plumbing

blocked sinks

central heating boilers, pumps
Reviews
18 Jul 2018
Happy Customer
Ron was very helpful and provided very prompt service at what I thought was a very resonable cost.

Thanks for helping us resolve our issues

Nicola
02 Feb 2017
Excellent Service
Really outstanding plumbing service. They turn up when they say will, on time. Carry out a thorough job at very reasonable rates. Friendly and helpful. Knowledgeable and up-to-date. Would thoroughly recommend
21 Jul 2016
Always a superb service
Ron has been our go to guy with any plumbing problem. He is reliable, always excellent work, no mess, no fuss & superb value. We first called Ron on a Sunday night with water pouring out all over the place. We called the first number we found with good reviews & within 10 mins Ron arrived & sorted the problem. He has a great customer manner & considering the time & day was more than reasonable. We continue to use Ron & we are so pleased with every job he has done, no matter how big or small he has always done great work. I recommend him highly for all your plumbing needs
14 Jun 2016
Good first impression
This was the first time I used Whitstable plumbing, for boiler service and landlord gas safety certificate. Andy was punctual, knowledgeable, and carried out the service efficiently.
13 Apr 2016
There's only one plumber in our area!
Whatever our problem was, to call Ron always was our first choice, and we have never been disappointed. He is a great plumber, knows exactly what he is doing and has all the necessary certificates. Now with Andy on board exceeds his knowledge base even further. Great company, great team! Thanks for everything you've helped us with over the last 14 years!
Granny_1303 13 Apr 2016
There's only one plumber in our area!
Report Review Whatever our problem was, to call Ron always was our first choice, and we have never been disappointed. He is a great plumber, knows exactly what he is doing and has all the necessary certificates. Now with Andy on board exceeds his knowledge base even further. Great company, great team! Thanks for everything you've helped us with over the last 14 years!
24 Mar 2016
Outstanding service and workmanship
Super fast response, outstanding workmanship and advice, coupled with real value for money. Work was carried out in a fast and professional manner with no job too small or large; a complete refit of our plumbing and central heating was completed without worry or difficulty and Mr Webster and his colleagues were a pleasure to have in our home.

The range of work this firm can carry out is very impressive and I would recommend to anyone without hesitation.
12 Mar 2016
A plumber you can trust
I don't write reviews but I was impressed with service received from Whitstable plumbing and building services and wanted to write something.
Our boiler broke down on a really cold day and I called Whitstable plumbing at 9.30am and even though he was busy he came around same day and got it working. A secondary more serious problem arose the following day, Saturday, and he came back with a colleague at lunch time and stayed until the problem was properly solved.
pros:
A local plumber, competent, trustworthy and really easy to deal with.
Very knowledgeable and explained things in a simple straight forward way.
His prices are very competitive.
Cons:
I didn't notice any.

I would use him again and have no hesitation in recommending him to anyone.
05 Mar 2016
Fantastic Service with Saturday Call Out
Can't recommend Ron highly enough, he responded to my 9am Saturday morning email and was at our flat within the hour. A true professional, he was able to logically trouble shoot the problems with our leaking boiler and radiators failing to warm up properly and had fixed all the radiators within 30 minutes. As this is our weekend bolt hole, we gave Ron a spare set of keys and he came back the following week and fixed the four separate leaks in the boiler and replaced some faulty pipework, he also installed thermostatic valves on all radiators and gave the central heating system a flush. The flat was left absolutely spotless and all of the work was carried out to the highest standard. Ron kindly popped round again the following Saturday to return the keys in person, talk us through all the work he had done and to make sure we were happy with everything. As an additional bonus, his bill was very reasonable given the amount of work done. Would never use another plumber other than Ron!!
09 Feb 2016
Ron is a genius
Ron is without doubt the best plumber I have ever known. He is a master problem solver and will also nip in and do very small quick jobs that many plumbers won't once you are a loyal customer. His first job at my house was to fix a gas leak which involved replacing some rusted pipes. He did a fantastic neat job and charged much less than all the other quotes I received. I will always use Ron for any plumbing problems and cannot recommend him highly enough
01 Feb 2016
Highly recommended.
I wouldn't hesitate to highly recommend Whitstable Plumbing to anyone wanting a professional, efficient service. Mr Ron Webster arrived on time and quickly located and fixed the problem with my boiler. He was friendly and polite throughout his visit and explained what he was doing in terms I could understand. Hot water restored and a complete boiler service at a fraction of the cost some other companies charge. Very happy and would use this company again.
16 Jan 2016
Saturday call out
After calling Ron on a Saturday at 3.30pm he arrived to my house within 20 minutes of the call. Ron was friendly and efficient and repaired my boiler during the call out. I will definately use Ron again and I recommend him to anyone. Thanks Ron for keeping me and my family warm this weekend.
04 Jan 2016
Brilliant
Affordable, fair, friendly and knowledgeable. Ron Webster arrived quickly, fixed a problem, improved the system and when I asked for a quote for low pressure in upstairs bathroom, he fixed that too. Then he improved that part of the system with extra isolation points. Heartily recommended as a good local professional who'll do a good job at a fair price.
New bathroom fitted
19/04/2014byDAJame
Can't recommend Whitstable Plumbing highly enough. Fitted a new bathroom into a loft conversion quickly with minimum amount of disruption. Finished quickly and at a very keen price. Workmanship of the highest standard and extremely pleased with results
Fast, reliable and thorough
19/03/2014byLRedman
I have used Ron Webster on more than one occasion and have found the company to be both competitively priced and reliable. I felt Mr. Webster went the extra mile to ensure I got what I wanted, rather than what was easiest for him. I now have an ensuite shower room with toilet minus the annoying Saniflow system it was on. He also installed a new water tank and heating system with the minimum amount of mess and fuss. I would thoroughly recommend getting a quote from this company
Superb
07/02/2014byMiblo
Excellent friendly service, reliable and good price - have had gas and plumbing work carried out now - both times very cleanly and efficiently done - highly recommend.
Very satisfied customer
22/03/2013byGloriap
Mr Webster of Whistable Plumbing and Building Services hadn't been my first port of call for my defective boiler. But having already been quoted a fee of £400 for parts alone, I was keen to get a second opinion, in spite of the freezing cold weather! He turned up at exactly the time agreed, (the morning after our telephone conversation), and within two hours, my boiler had fired up and the heating was on. The best part of the whole experience, (other than finally having a warm house and hot water again), was the price - well under £100 inclusive. I cannot recommend this plumber highly enough, no fuss, no mess and very reasonably priced
Good reliable plumber
04/03/2013byMrsgiggles
After nights of noisy heating and a sleepless baby I needed to get my heating sorted. As I live in whitstable supporting our local businesses is important so I contacted a plumber close to home. I explained to a gentleman on the phone my problem and that afternoon I got a visit. There was a gent at my property for about two hours and was done. I was surprised as I've had trades to the house in the past and must say he was very polite tidy and helpful in explaining what was wrong. I would and do recommend whitstable plumbing to anyone who needs a reliable quick service